Mourning the Loss of Neil Sugermeyer
Neil Sugermeyer, husband of Marty Sugermeyer and long-time member of TRAACA and HVPR, passed away at 9 PM Friday, September 15th. He and Marty have been active participants in activities and meetings for decades, and Neil helped Marty with the award-winning Mud Flap newsletter. He was President of the TRAACA 1997-1998, and his contributions to helping the hobby were greatly appreciated at both local and National levels. Besides being an authority on Franklin automobiles, Neil was one of the pioneering judges in the HPOF class and was a constant participant in National Shows. He will be missed by all who had the privilege of knowing him.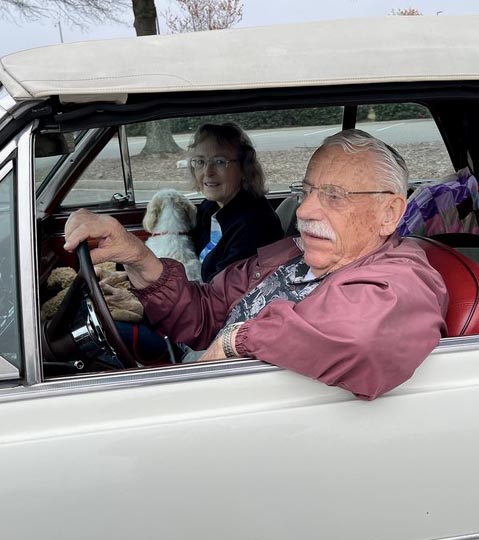 Serving the greater Hampton Roads area of Virginia, the Tidewater Region of the Antique Automobile Club of America is dedicated to the preservation of our automotive history, from the earliest 'horseless carriages' to vehicles just turning 25. Family-oriented and extremely active, we offer a wealth of experience and knowledge to the fledgling auto enthusiast, and the chance to get to know some of the nicest people in the old car hobby! If you are new to the area, just getting into the hobby, or simply love old cars, check us out.

Visitors are always welcome! Check out our Calendar of events, or take a look at the current issue of our award-winning newsletter THE MUDFLAP by clicking on the issue cover above. Back issues, as well as our current bylaws, are available from our on-line library. This web site also provides contact and membership information, and a history of the TRAACA.
WEDDING CARS, BIRTHDAYS, AND OTHER PERSONAL EVENTS: Due to strict insurance and state regulations concerning antique automobile registration and use, our members do not hire out their vehicles to support personal activities such as weddings, birthday parties, etc. Organizations and groups can request car displays by emailing Postibob@gmail.com.
TRAACA/AACA Upcoming Events

Check the AACA, TRAACA, and ODMA websites, Mudflap Newletter, and Mud Speck e-zine for up-to-date information..
SEPTEMBER
21 - TRAACA Monthly Meeting - 6 PM - (Golden Corral Steakhouse in Chesapeake)
25-29 - 2023 AACA Western Divisional Tour - California Central Coast, Santa Ynez Valley
OCTOBER
3-6 - Eastern Fall Nationals - (Hershey, PA)
14 - TRAACA Garage Tour and Monthly Meeting with FREE lunch for TRAACA members (Hosted by Bruce Sedel) (CLICK HERE for more information.)
(See our Activity Calendar for 2023 TRAACA and AACA activities)